My inspiration for the nursery started with this Papier-Mâché Elephant Head
from Restoration Hardware Baby
. It goes right along with the Grey and White theme of the nursery. I love that this is something that can grow with this child, and doesn't scream BABY!! I included this picture on one of the design boards for my client, and she loved it right away.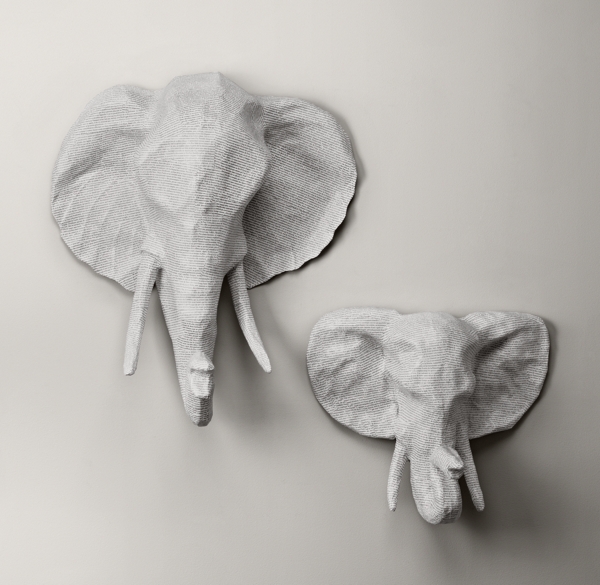 Once we had a theme and a color scheme, I wanted to start with grounding the space with a large area rug. After looking at the design boards, my client really liked the graphic designed rugs. I found a few great choices for her to choose from.
She chose the first one, (YAY I loved the stripes).
Next we looked at curtains. Here were the choices.
She ended up going with the first choice, the grey and white stripe with the polka dots. I was a little nervous ordering from this company, because I hadn't had any previous experience with them. The company is called
Carousel Designs
. They make darling custom nursery bedding and accessories. I first ordered a swatch of the curtain fabric to make sure the colors were what we wanted. They were perfect, so we went for it. They do take a bit longer to ship because everything is made to order, but I was pleasantly surprised with the quality.
Next came the glorious bedding. I offered my client a couple of choices, but once I found the
Taylor Bedding set
that featured cute little elephants in white and grey, I knew we'd struck gold, she thought so too!! Seriously could this be any more perfect?
On Friday I'll show you how we brought the nursery together and add color to this grey and white color scheme with a few key accessories and all also reveal the completed space.